Posted by: Lisa Hendrix

Currently working on: A Bailey's and Coffee
It's Christmas Day when this goes up, but 10 days earlier when I'm writing it. Despite the fact that I'm having my annual pre-Christmas Scrooge attack, there's no way I'm going to have my Christmas Day post be a list of things that make me go hmmm. So instead, I'm giving you my list of things that make me smile broadly, with an emphasis on the holidays.
Sleighbells.
Stockings on the mantle.
Snow flakes, real or paper.
Paper chains.
Popcorn chains, especially with cranberries.
Laughter.
Branches covered with ice and snow.
Bacon frying
Family ornaments from WWII.
Krusteaz Orange-Cranberry Muffins (our traditional Christmas morning feast)
Piles of wrapping paper with cats in them.
Lines of kids waiting to see Santa.
Family all around.
ZuZu's flower.
"We'll follow the Old Man wherever he wants to go…"
Ribbons.  Loads and loads of ribbons.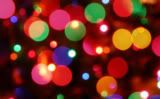 Driving around to see the lights.
Hanukkah gelt.
Stars.
Giant full moons (last Friday)
Lazy mornings (my kids are teens now)
New PJs.
Instruction manuals for new toys.
Dawns that happen late enough that I'm awake to see them.
Chocolate oranges.
Icicles.
Children who, for one glorious day, don't fight.
Snow ice-cream.
Singing Muppets.
Warm blankets.
A black President-elect.
Merry Christmas to everyone.  I'll see you after the New Year…and the Inauguration. May they both fulfill all the best expectations we have for them.